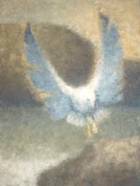 Maine Boats, Homes and Harbors
Excerpt from the article, "Creatures Great and Small", summer, 2005
"Ecology," "Biodiversity," Ecosystem" – these words are mainstays of the conservation movement in America…
Some of the credit for our heightened awareness of the natural worlds must be given to artists. Every year painters, printmakers, sculptors, and artisans across the country and the world celebrate the soaring eagle, the swift cheetah, the mighty bear. Museums, societies, guilds, and the like support the exhibition and publication of this work, all which serves to remind us of the beauty of wild animals – and the often pressing need to preserve them.
Maine is home to many remarkable animaliers or animal artists. The four featured here pay special heed to the call of the Maine wild. Their art celebrates the inhabitants of a kingdom we humans often have trouble sharing.
Gina Sawin
Seeking Spiritual Connection
On viewing Gina Sawin's Monhegan Gull, 2004, seraphic in its grace and power, a passage from Howard Norman's The Bird Artist (1994) comes to mind: "I was convinced that birds were kinds of souls. Not the souls of people but of previous birds whose mystery and beauty were so necessary on earth that God would not allow them to be anything in their second life but birds again."
Sawin belongs, she says, to a small but dedicated group of painters who are "drawn to nature but committed to the principles of abstraction." Her bird paintings reflect this approach. Shore and water birds not only have inherent potential as abstract forms, but also suggest, in the artist's words, "our spiritual connection to the planet, and more specifically for me, to the Maine landscape."
Sawin has depicted moose, coyotes, wolves, and other creatures, sometimes rendered in a pointillist fashion, but painting birds is a special passion. This effort to represent avian beauty, she says, allows her to join with writers, filmmakers, poets and other creative individuals, who, in the words of the naturalist John Hay, "engage in an inner dialogue with a race that occupied the planet long before us."
It is such inner dialogues that all four artists featured here embrace and carry forth through their art into the hearts and minds of their admirers.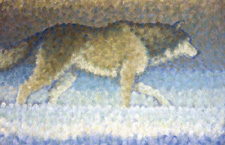 Winter Wolf, 24" x 36"
Art in America
By Carl Little
Washington, D.C.
Gina Sawin offered recent oil paintings of animals and Maine landscapes in her first solo exhibition. Sawin's animals, which include wolves, elk, buffalo, moose and the wild horses of the Camargue in southern France, have an ethereal, almost floating appearance - an aura, as in the golden-hued Horse in Summer Field. The creatures are so much part of their natural milieu that at times they seem to merge with it. Some lines from an early James Dickey poem, "The Heaven of Animals," come to mind: "If they have lived in a wood/It is a wood./If they have lived on the plains/It is grass rolling/Under their feet forever."
The use of short, hatched brushstrokes results in something like a mosaic, as in the paintings Reflecting Moose and Wolf. Often the strokes heighten the sense of movement: the animals in Rearing Horse and Running Deer are propelled across the picture plane by carefully deployed touches of paint. Warm blues, greens, and yellows make up the palette for most of the animal pictures, which come easel size and smaller. A few, such as Reflecting Horse have something of Wolf Kahn's post-impressionist tonal scheme.
The Maine landscapes are quite small (one measures 6 by 12 inches) and utilize cooler hues more fitting to the northern clime. They are oil sketches, pure and simple, several of them views of the Kedgwick River near Freeport.
The artist, a 1995 graduate of Parsons School of Design, where she studied with Leland Bell, John Heliker and Paul Resika, among others, maintains studios in Maryland and Maine. She has worked as an advertising designer, most recently for the National Wildlife Federation in Washington, D.C. - which may explain the love of undomesticated animals that is well expressed in her art. This is quiet, unsentimental work that nonetheless engages the eye and, at times, the heart.
Note: A full-page color reproduction of Sawin's Winter Moose appears in the book The Art of Maine in Winter, written by Carl Little and published in 2003 by Down East Books.
The following is a catalogue essay by Don Davis from Sawin's show at the Bond Traders Association in New York City in 2000:
A feeling of tender observation exists in Gina Sawin's painting - a metaphor for love, perhaps. This is balanced with the formality present in the composition - a calm measured gait that professes the delight of the senses.
We are allowed to witness a solitary creature from across a majestic, haunting space - a space perhaps unreachable and finally unknowable to the human ego. In this way Sawin isolates the viewer along with the creature - creating a proximity where the viewer is inescapably conscious of the drama of both the painting itself and an homage to nature; a commingling of Seurat and Audobon.
As though having finally cut through a wall of dense foliage, we arrive in a cool and secret glade, where once we existed in unconscious Creation. These creatures call to the artist and she in turn has left their calling card forour eyes. Perhaps we may give word that we are receiving.